The Lithium‑ion battery industry has developed rapidly in recent years as existing battery technologies such as NiMH and NiCd, are replaced and the advent of mass produced electric vehicles is forecast to transform the raw material requirements for their manufacture. Legislation and regulation promoting the electrification of vehicles is expected to support increasing uptake of xEVs, with market penetration exceeding 60% in major automotive markets such as Germany, China and Japan by 2027. Hybrid vehicles, including full, mild (48V) or micro (12V) hybrid models are forecast to form the majority of xEV sales during this period, with full electric vehicles forecast to form roughly 8% of global vehicle sales in 2027. Significant investment in battery manufacturing facilities has already been made by major automotive, battery and technology companies, either directly or through the creation of joint ventures, though further investment is expected in the coming years as competition in the industry increases.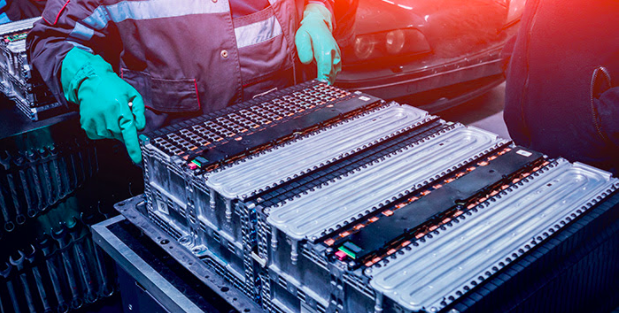 The assemblage of raw materials used in Lithium‑ion batteries ranges widely, from lithium, cobalt and nickel used in active cathode materials, graphite and silicon in active anode materials and specialist chemicals and plastics used intensively in binders, solvents, electrolytes and separators. Complex multi-metal cathodes have become standard for new applications, such as lithium-nickel-cobalt- manganese-oxide paired to silicon-doped blended graphite anodes in electric vehicles or lithium-iron-phosphate cathodes paired to lithium-titanium-oxide anodes for energy storage systems. The growth in demand from xEVs is also changing the chemistry of Lithium‑ion battery technologies, as cathode chemistries with higher energy density, lower cost of production and more stable raw material supply chains are favoured.
The new Lithium‑ion Battery report from Roskill provides the reader with detailed insight into the Lithium‑ion battery industry from sourcing of raw materials, production of different components of Lithium‑ion battery technologies, the use of Lithium‑ion batteries in end-use applications and forecast changes in their use and composition. It also provides intermediary material and battery manufacturers with abridged information on the upstream landscape, including profiles of major battery component, cell and pack manufacturers. The second edition of Roskill's Lithium‑ion battery report uses Roskill's 50 years of experience in analysing metal and mineral markets, including major battery raw material markets.