Dansk Batteriselskab – Årsmøde 23. marts 2021
Normalt afholder DBS et heldagssymposium, hvor medlemmer og interesserede kan mødes og udveksle viden og erfaringer. Selvom Covid19 hindrer det fysiske møde tilbyder DBS alligevel en to timers version af symposiet i virtuelle konferencerammer hos DTU Energy Town. Der er mulighed for mødes med andre i mindre eller større grupper. Der er en postersession (10 medlemsposters), der er fælles seminaroplæg med Q&A for alle og en dialog-session med udgangspunkt i myter eller fakta om batterier. Efterfølgende er der mulighed for at blive hængende i "caféen" – medlemmer opfordres dog til at deltage i Generalforsamlingen.
Program – Dansk Batteriselskabs Årssymposium 2021
14:00 Velkommen (i lobbyen) v. Poul Norby /DTU (vært & næstformand i DBS)
14:10 Nyt EU-direktiv om batteri recycling og Ecodesign med Q&A – Oral session (Anders Jensen /TI)
14:45 Poster session i Poster-udstilling
15:30 Myter & fakta om batterier (Gunnar Rohde /DaCES)
15:55 Tak for i dag – "caféen" er åben
16:00-16:40 Generalforsamling for betalende medlemmer af Dansk Batteriselskab
17:00 "caféen" lukker.
Nyt EU-direktiv vil sætte rammerne for batteriproduktion det næste årti
EU står overfor en massiv udvidelse af batteriproduktionen på alle trin af værdikæden, med nye miner for råstoffer og gigafabrikker for celle produktion primært samlet i Tyskland og Østeuropa. Derfor står EU klar med et nyt direktiv til at erstatte direktiv 2006/66/EC og dermed sikre de lovmæssige rammebetingelser for batteriprodukter inden for EU. Denne nye lovpakke sætter fokus på minimumskrav til performance, genbrugsprocessor, mærkning, batteri pas og sikkerhedskrav. Dette vil føre til større dokumentationskrav for producenterne, men også åbne nye muligheder indenfor second-life og batteri genbrug for at sikre en bæredygtig cirkulær økonomi. EU-direktivet er sat til at skulle træde i kræft 1 januar 2022 og bestemmelserne vil herefter blive indfaset frem til 2030.
Oplæg ved Batterispecialist Anders Christian Solberg Jensen fra Teknologisk Institut.
Poster udstilling
Medlemmer, der ønsker at "udstille" en poster, kan indsende forslag i pdf-format til Poul Norby de første 10 relevante forslag får plads. Der er ikke formelle krav til udformningen af posteren – der forventes at være mulighed for at zoome ind på detaljer.
Myter eller fakta?
Gunnar Rohde har forberedt nedslag på nogle af de mange udsagn om batterier, som man kan være i tvivl om er fakta eller myter. Man er velkommen til at sende forslag til myte-spørgsmål til Gunnar under symposiet eller i forvejen via batteriselskab.dk hjemmesiden  "Kontakt os" fanen. Skriv "Batteri-myte" efterfulgt af spørgsmål i message feltet (husk at sætte flueben i "I'm not a robot"-feltet).
Vel mødt på DBS Årssymposium 2021
Kjeld Nørregaard
Formand for DBS bestyrelsen.
---
Links
---
Our Goal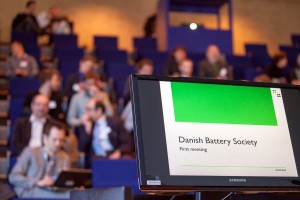 The battery research is blooming in Denmark and a number of Danish companies are already focusing on developing materials and implementing batteries in commercial products.
The active players in Denmark are often small groups and to compete internationally, we see a need for exchange of knowledge and experience, i.e. characterization methods, lab facilities, types of batteries and market trends.
In recent years a number of interest groups have been founded to meet a need of sharing knowledge within a specific type of battery chemistry or a specific application of batteries, but so far no association has tried to gather and share information across the various research areas.
The purpose of the Danish Battery Society is to create a forum to share knowledge through targeted events and an annual meeting.