The city of Gumi, South Korea has debuted a wirelessly charged electric bus, becoming yet another municipality to embrace induction charging. Where we're going, we don't need cords.
The Korea Advanced Institute of Science and Technology (KAIST) developed the Online Electric Vehicle (OLEV) platform, which is already in use on trams at the Seoul Grand Park amusement park and shuttle buses on the school campus. Now, the passenger route between the Gumi train station and the In-dong district is now plied by two induction-powered buses.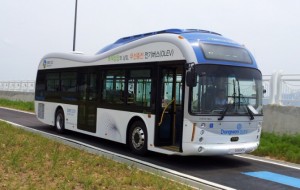 Its the same technology used to charge phones and toothbrushes wirelessly, but used on a much larger scale. In public transit, induction relies on magnetic charge plates beneath roadways and a counterpart inside the bus. When an induction-capable bus passes over that charging plate, the two magnets become "tuned," and current flows to charge the on-board battery.
Though the route is about 15 miles, the buses will be able to use batteries about a third the size of what you'd find in an electric car — far smaller and lighter than what a conventionally charged electric bus would require. With a 6.7-inch gap between the road and the bus, there's 85 percent charging efficiency at 100 kW from the road to the bus.
The charge plates under the road generally take up only between 5 and 15 percent of the total route, and remain switched off until an induction-capable bus approaches. If the test goes well, 10 more buses will go online in the near future.
The application of inductive charging on buses makes perfect sense as they travel the same routes, day after day. Installing charging plates under the routes is far less daunting than electrifying the whole transit network. Plus, because of public transit's fixed routes, engineers can ensure that buses get a proper charge every trip without a need to stop and recharge.
Induction charging is already powering buses in Utah and in Germany. Buses in Torino, Italy have used induction since 2003, and routes in Utrecht, the Netherlands got induction back in 2010.
Read the full article at http://www.wired.com/2013/08/induction-charged-buses/