El-færge projektet, E-ferry, er et fireårigt innovationsprojekt med det formål at designe, bygge og afprøve en 100 % eldreven, mellemstørrelse færge for passagerer og biler, lastbiler og anden last. Målet er at fremme energieffektiv, CO2 neutral og forureningsfri vandbåren transport på ø-ruter og i kystnære farvande i og udenfor Europa. El-færgeprojektet bygger på den Syddansk Vækstforum-støttede forundersøgelse, Green Ferry Vision.
El-færgen vil have en rækkevidde som er 7 gange længere end nogen anden fuldelektrisk bilfærge. Mellem Søby – Fynshav (10,7 sømil, 1 sømil er 1852 meter) og Søby – Fåborg (9,6 sømil) vil færgen kunne sejle de op til 22 sømil tur-retur til ladestationen i Søby.
Udover at det er en bemærkelsesværdig bedrift at skaffe midler og opbakning til sådan et projekt er der en fin historisk linje der kan føres helt tilbage til Danmark som søfarende nation.
Her på siden er vi særligt interesserede i hvilket batteri man har valgt og hvem der har lavet det. Det kan man heldigvis læse om på Ærø Kommunes udmærkede hjemmeside (https://www.el-færgeprojekt.dk/om-e-ferry). Her er et udklip af informationerne:
Batteritype: Lithium-ion Graphite/NMC til maritimt brug
Kapacitet: 4,3 MVh
Vægt: Cirka 56 ton(!)
Størrelse: 20 separate strenge af hver 3098 x 2225 x 440 mm
Batterisystemet er særligt udviklet til Ellen af LeClanche i Schweiz med funding fra EU's Horizon 2020 research and innovation programme (GAN 636027)
Det er det første batterisystem til maritimt brug, som er typegodkendt under klasseselskabet, DNV-GLs nye retningslinjer.
Batterierne er vandkølede for at holde driftstemperaturen stabil.
Batterisystemet er designet så man nemt kan udskifte bare en del af det, og det kan derfor også sagtens skaleres til andre behov.
Batterierne har altid reservekapacitet til nødberedskab, og vil sjældent bruge mere end 45% af batteriernes energi i normal drift.
Cirka 1/3 af energien i batterierne, lades henover natten.
Resten "sjat"-lades under havneopholdene i Søby havn i løbet af dagen.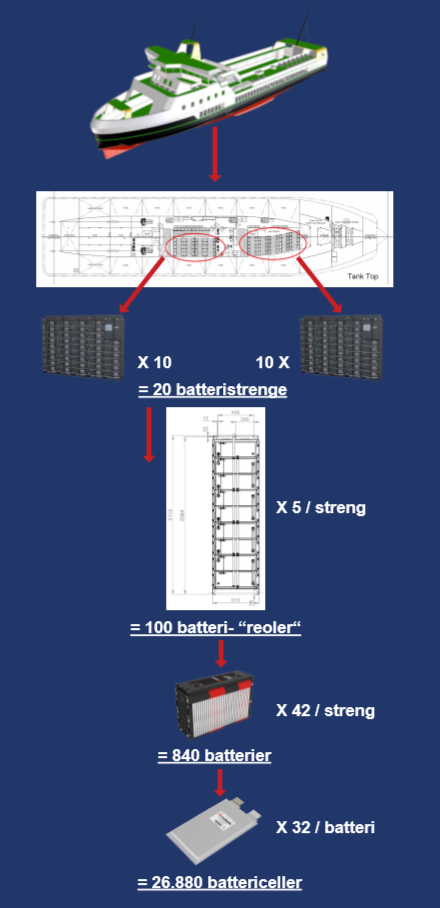 Læs mere her https://www.el-færgeprojekt.dk/om-e-ferry